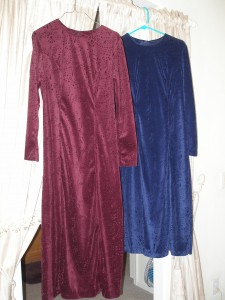 What to do?  What to do?
I have a purple-ization problem and I'd love your collective help.
A very long time ago in a galaxy far, far away, someone made these two dresses for me.  They look kind of baggy but when I tie the back, they look very nice.  Unfortunately, they are two dresses I don't really wear anymore because one is red, the other blue and neither is purple.
How do I make them purple?  Both look like the dye woudln't take.
I have several leggings that I'd love to wear with purple shirts but they need to be long shirts.  These dresses could be shortened to fit the bill, but they need to be purple-ized.  Does anyone have any ideas?
Leave a comment with your ideas.  Thanks and have a GRAPE Day!