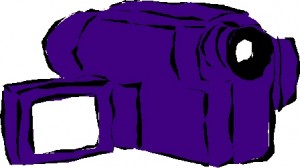 It came to me the other day while I was looking for new unique videos on YouTube to post here.  There are very few creative purple videos on YouTube!  So I resolved to create them my little own purple self and I'm looking for creative ideas from all my grape readers out there. Please post your ideas here as a comment.
It'll take me a little while to start because I'll have to purchase a webcam.  Then I'll have to play with it a while and see where it takes me but this should be a lot of fun!
Now don't leave me out in the purple cold here, folks!  Give me your ideas!  The more wild and creative the better!
They'd all be just about 2-3 minutes long.  Here's what I see:
Purple Power: Showing the powerful influence of purple throughout the ages.
Purple Girl: Able to leap tall grapes in a single bound!
It's a Grape Day in the Neighborhood: Showing all the purple around my neighborhood.
Little Purple Riding Hood: Nuff said!
Plumeria: The video version of the story I wrote about the Purple Princess who lived in the Grape Galaxy far far away who was born in the miraculous city of Mauve Mountain near lovely Lavender Lake nestled on the outskirts of Violet Valley located on the Purple Planet of Plum.
I'd love to hear your ideas.
Have a GRAPE Day!